Rent or Buy Now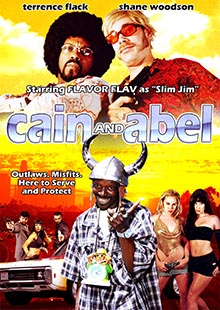 Cain and Abel
Own It September 04, 2007
Genre: Action, Comedy
Runtime: 93 Minutes
UPC: MAV-5230, 824355523027
Storyline
Set in modern-day L.A., but with a '70's vibe, 'Cain and Abel' is a 'Starsky & Hutch' meets 'Bad Boys' wacky buddy-cop movie featuring America's favorite reality TV star FLAVOR FLAV as 'Slim Jim'. The salt-and-pepper outlaw cop duo, Malcom Cain and John Abel, bag criminals while enjoying their high-rolling gambling habits and illicit sexual exploits. A new police lieutenant, Hymen Proctor, is anxious to rid these two misfits from the department. With the help of his two sexy undercover detective 'Angels', Lt. Proctor sets them up for failure when he assigns them to take on 'Big G', a notorious gangster with a gold-plated wheelchair.
Directed By
Shane Woodson (Joshua W. Oglesby)
Cast
Shane Woodson, Terrence Flack, Christy Oldham, Lola Davidson and Flavor Flav as " Slim Jim"
About the Crew
Starring Terrence Flack (TV's 'Everybody Hates Chris' and 'The Shield') and Shane Woodson ('Zodiac', 'Resident Evil: Extinction', NBC's 'Las Vegas')
Featuring Rap artist Flavor Flav (Star & Host of VH1's 'The Flavor of Love' series, 'Confessions of a Pit Fighter', 'New Jack City')

Co-Starring Sarah Jones from David E. Kelley's New Hit Comedy 'The Wedding Bells'• The Audience Choice Abbot Award - The Other Venice Film Festival
Official Selection - Dances With Films Film Festival