Rent or Buy Now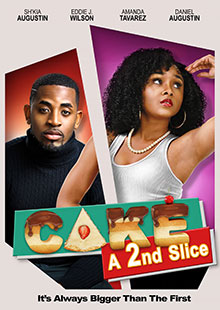 Cake: A 2nd Slice
Own It March 15, 2022
Genre: Comedy, Drama
Runtime: 84 Minutes
UPC: MAV-5740, 824355574029
Storyline
Ronnie finds herself in some deep, dark chocolate-like trouble when Heather falls in love with Carmen's unique brownie mix and Rick is in a troubling love triangle.
Produced By
Sh'Kia Augustin and Daniel Augustin
Directed By
Daniel Augustin
Cast
Sh'Kia Augustin, Eddie J. Wilson, Amanda Tavarez, Daniel Augustin
About the Crew
Daniel Augustin is an actor and director most notably known for his role in The Turnaround (2017), Wu-Tang: An American Saga (2019), Dynasty (2020), Greys Anatomy (2021), and How I Met Your Father.
Sh'Kia Augustin is an actress and producer known for The Turnaround (2017), The Flea (2019), Black Lightning (2019-2021), and Genius (2021).
Amanda Tavarez is an actress known for A Brother's Honor (2019), First Christmas (2020), and Brutal Bridesmaids (2021).