Rent or Buy Now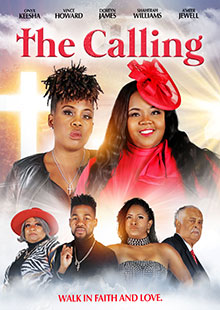 The Calling
Own It June 20, 2023
Genre: Inspirational, LGBT
Runtime: 107 Minutes
UPC: MAV-5982, 824355598223
Storyline
Tamar has been called to become a minister, and for most, this would be an honorable moment, but for Tamar, it is the worst thing that could happen. Tamar is the daughter of prominent Deacon Jessup, and is a lesbian. Taught that her desires are not that of God, Tamar has suppressed them for the last 16 years and has never dated a woman. When the Future Minister's Ministry opens for a new class, Tamar finds herself falling for the only other woman in the class.
Produced By
B. Danielle Watkins, Onyx Keesha, Rachi Herring
Directed By
B. Danielle Watkins
Cast
Onyx Keesha. Vince Howard, Doreyn James, Shaherah Williams, A'Meer Jewell
About the Crew
B. Danielle Watkins, author, screen-writer, and film maker, was born and raised in Buffalo, New York. Taking her career to the next level Ms. Watkins became the first and only African American filmmaker to write, produce and star in a REVRY original series, "3030". 2019 proved to be one of her most defining years in her film career. After winning four Telly Awards for the documentary entitled "GRRRL: The Beauty of the Beast" and launching the second season in her original series "3030". She has earned a plethora of accolades and acknowledgements in the film industry, making her an alchemist in the game.
Onyx Keesha is a director, actress and producer known for Between Women (2011-2013), 30 30(2019), and Fatal Attraction (2022).