Rent or Buy Now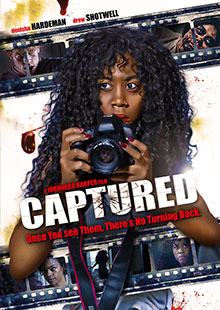 Captured
Own It May 07, 2019
Genre: Thriller
Runtime: 70 Minutes
UPC: MAV-5589, 824355558920
Storyline
Jessica Johnson, a journalist, has just learned that her brother has died. Upon moving into his apartment to pick up his belongings she notices an old camera. She has no idea about the secrets behind the camera left behind. It's only a matter of time before she begins to hear and see visions only behind the camera or whenever the camera is near. Is it real? or is she hallucinating?
Produced By
Johnnard Harper, Kyle Lee
Directed By
Johnnard Harper
Cast
Denisha Hardeman, Drew Shotwell
About the Crew
Johnnard Harper is a Houston director, writer, and producer known for 'The Perfect Wife', The Do's and Don'ts of Dating', and 'Urban Myths'.
Bianca Tonsall is an actress, known for 'The Wannabes', 'The Foreign Exchange Student' and 'The Perfect Wife'.
Denisha Hardeman is an actress and writer, known for Right Thumb Up, Sledge and 5th Ward.
Alexandra Mauro is known for her work on 'More Than Human', 'Hell of a Night', and 'Closer to Home.
Gallery