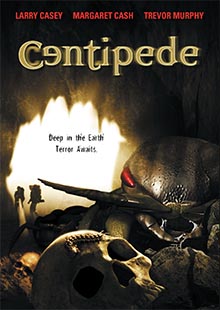 Centipede
Own It July 05, 2005
Genre: Horror
Runtime: 96 Minutes
UPC: DVD: MAV-5143, DVD: 824355514322
Storyline
David's childhood buddy, Jake, cajoles him into attending an unconventional bachelor's party: a caving expedition inside the Shankali Caverns. They take off to India with several of their friends and, once there, they enlist a guide to lead them into the underground expanses. The guide regales the group with the mysterious legend of the Shankali Caves. A member of the group enters a cave and it's mortally attacked by a centipede causing an explosion. As a result, the cavern walls collapse, trapping David and his friends along with the deadly centipedes. The remaining crew courageously chops the centipedes in two, but their victory is short-lived, as they find that the halves have remained very much alive, doubling their peril...
Directed By
Gregory Gieras
Cast
Trevor Murphy, Margaret Cash, Larry Casey, George Foster, Satish Sharma
About the Crew
Dread Central comments, "Centipede! is an old fashioned creepy crawler creature feature that should entertain those that can appreciate a fun throwback to the monster movies of the past couple decades. Hey, they even eventually find a way to toss in some good old toxic waste for good measure."
Centipede was filmed entirely at Ramoji Film City, the world's largest film studios, located outside Hyderabad in southern India, and built by Indian media mogul Ramoji Rao who was also co-executive producer of Centipede. Director Greg Gieras explains, "One of the most important components of this film were the creature and the sets, both of which were constructed entirely at Ramoji Film City." Greg Solomon (Crossing Jordan, Gremlins) designed the centipede and worked closely with Gieras to design the overall look and movement of the giant centipede.
The all star cast includes Margaret Cash, Trevor Murphy (Wrong Way To Sundance, The Night Ferris Bueller Died), George Foster (Wayne's World, Wayne's World 2 and The Beverly Hillbillies), Matthew Pohlson, Steve Herd, Danielle Kirlin and Satish Sharma as the Indian caving guide, Kafi.
Gallery
Gallery Images are Coming Soon.