Rent or Buy Now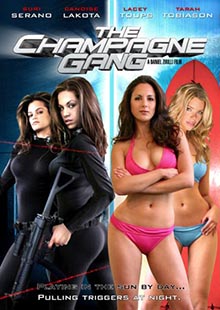 The Champagne Gang
Own It October 03, 2006
Genre: Action
Runtime: 91 Minutes
UPC: MAV-5200, 824355520026
Storyline
The Champagne Gang is an exciting action-packed drama about four beautiful California beach girls who pull heists to pay for luxury items and surfing vacations to Mexico and Hawaii. Clad in fitted cat suits and netting millions in cash, the cops are clueless to the identity of the gang as their cleverly executed late night store break-ins spread throughout San Diego. Soon greed threatens the champagne-popping all-girl crew's freedom and friendship. As the investigating cops close in, how long will their criminal escapades continue to pay off for these lovely vixens? Featuring hit music by Platinum Recording Artist DOMINO. Also featured, DEVIL DOLL, REIGN KINGS, and, the award-winning song, 'Liberte' by HAVOC RAZOR.
Directed By
Daniel Zirilli
Cast
Suri Serano, Candise Lakota, Lacey Toups, Tarah Tobiason, Damon Whitaker, Jesse Camacho, Special appearance by Bokeem Woodbine
About the Crew
Sexy Vixens Poised on Great LENTICULAR 3D Key Art Campaign.
Added Value with Keepsake LENTICULAR 3D Key Art, geared towards Youth Demographic
Perfect Sellthrough Piece, Thriller Appeal!