Rent or Buy Now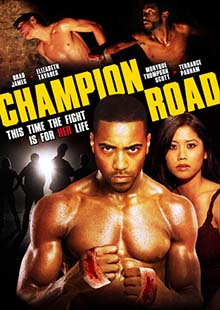 Champion Road
Own It January 19, 2010
Genre: Action
Runtime: 90 Minutes
UPC: MAV-5335, 824355533521
Storyline
Desperate to make any money he can Jonathan joins the ranks of one of the deadliest fighting rings in the city. Now with each fight he lays his life on the line and with each win he gets closer to raising the money he needs. But life on the streets is unpredictable and as one last fight takes a vicious turn everything that Jonathan has trained so hard for just might be lost forever.
Cast
Brad James, Monyque Thompson Scott, Ro Brooks,Terrance Parham, Shaun Mixon
About the Crew
Jerome Ro Brooks - Make It Rain, 'The Corner'
Monyque Thompson Scott - Losing Ground
Hard hitting fighting sequences make this film a must see!