Rent or Buy Now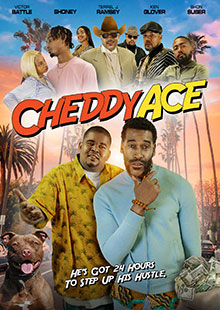 Cheddy Ace
Own It July 12, 2022
Genre: Comedy
Runtime: 75 Minutes
UPC: MAV-5813, 824355581324
Storyline
After taking out a "hood loan" to invest in a janky business a year earlier, Cheddy Ace is faced with repaying the loan to a pair of thugs within 24 hours. Desperate to pay his debt, Cheddy and his nephews try everything to help him raise it.
Produced By
Crystal Ellis, Lee Ellis, Tom Griggs Sr.
Directed By
Crystal Ellis
Cast
Victor Battle, Shoney, Terrel J. Ramsey, Ken Glover, Shon Suber
About the Crew
Crystal Ellis is a producer and director known for The Ides of March (2011), Just Our Luck (2016), Grub Love (2018), and The Flavor (2018).
Victor Battle is an actor known for Nerd Boy (2008), Going Postal in LA (2015), Just Our Luck (2016), and Dead End (2019).
Ken Glover is an actor and producer, known for Hanging on to Love (2022), Cheddy Ace (2022) and Trip Slip (2021).