Rent or Buy Now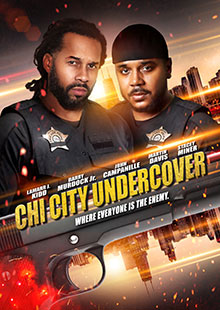 Chi City Undercover
Own It March 28, 2023
Genre: Crime, Drama
Runtime: 88 Minutes
UPC: MAV-5904, 824355590425
Storyline
When newly recruited cop, Williamson, goes undercover on the west side streets of Chicago, he has only one goal: take down career criminal and undefeated Drug Lord, Damon "Big D" Douglass, but "Big D" has connections and eyes everywhere.
Produced By
Cristder D. Bush
Directed By
Quincy J. Trent
Cast
Lamarr J. Kidd, Barry Murdock Jr., Martin Davis, John Campanille, Stacey Miner
About the Crew
Quincy Trent is a director, writer, and producer known for One Dream Away (2010), All for the Money (2019), and Death by Envy (2022).
Lamarr J. Kidd is an actor known for One Dream Away (2010), Death by Envy (2021), and Chi City Undercover (2023).