Rent or Buy Now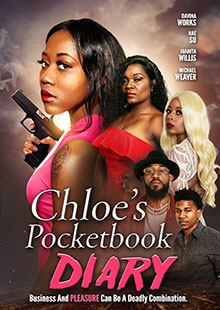 Chloe's Pocketbook Diary
Own It March 08, 2022
Genre: Crime, Thriller
Runtime: 105 Minutes
UPC: MAV-5801, 824355580129
Storyline
Chloe wants in on the family business, but entry comes at a dangerous price, when its sex, drugs, and murder.
Produced By
Gin Blanton, Jouet Daniels, Eniqua Russell
Cast
Davina Works, Nae Su, Juanita Willis, Michael Weaver
About the Crew
Gin Blanton is an actor, director, and producer known for Deceptions of Love (2013), The Hills (2017), and Woman on the Edge (2018).
Nae Suu is an actress known for Love & Drugs (2018), Love & Drugs 2 (2020), and Chloe's Pocketbook Diary (2022).
Davina Works is an actress and has worked on multiple commercial sets and as a background actress for TV Pilots and Ad campaigns in addition to traveling over Texas working as a fitness and lifestyle model.