Rent or Buy Now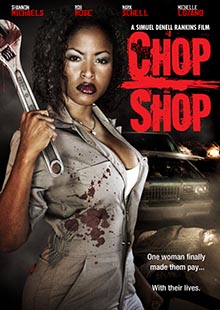 Chop Shop
Own It January 02, 2007
Genre: Thriller
Runtime: 90 Minutes
UPC: MAV-5210, 824355521023
Storyline
The story for CHOP SHOP was based on disturbing true events recorded in the journal of Lisa Stewart, found left behind in an auto repair shop, where four rotting bodies were also discovered! A smart, professional woman, Lisa Stewart, has her car towed to a small hick town's auto repair shop after surviving a serious road accident. Joe, the lecherous manager, promises to have the damages fixed in two weeks. After working late at night, Lisa returns to the shop expecting her car to be ready, but instead finds it still hasn't been repaired. Even worse, she is disrespected by the shop's crew in a vicious way. Outraged, Lisa decides to take matters into her own hands and find another repair shop, but Joe and his staff have other plans.
Directed By
Simuel Denell Rankins
Cast
Shannon Michaels, Rob Rose, Mark Schell, Michelle Lozano, Yayao Hsueh, Martina Marie and introducing Shannon Michaels as "Lisa Stewart"
About the Crew
Sexy Urban Action with Female Serial Killer.
Based on true events, one woman seeks revenge on the men who brutally ravaged her.
Do Not scorn an angry Woman with Power Tools!.