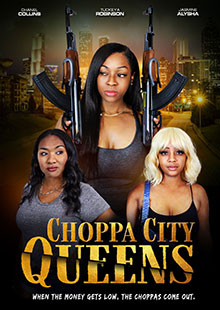 Choppa City Queens
Own It May 09, 2023
Genre: Action, Drama
Runtime: 93 Minutes
UPC: MAV-5924, 824355592429
Storyline
Best friends Leah, Jada and Shanice lose their jobs, are unable to find new work, and struggling to make ends meet. One day, Leah comes across a gunrunner hiding a bag of AK-47's. Leah strikes up a deal with him to buy his guns and sell them on the black-market. Things start going well with the women selling guns until Shanice's boyfriend, Marquis, finds out the truth. Marquis and his cousin Berg then decide they are going to steal the guns from the woman and set up their own operation.
Cast
Tuckeya Robinson, Chanel Collins, Jasmine Alysha
About the Crew
Jeff Profitt is an actor, director, and producer known for Queen of the Trap House (2021), Deceitful Tendencies (2022), and Getting to the Plug (2023).
Jasmine Alysha is an actress known for We Go Deep (2021), Queen of the Trap House 2 (2022), and Deceitful Tendencies (2022).