Rent or Buy Now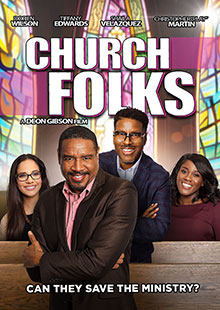 Church Folks
Own It December 08, 2020
Genre: Comedy
Runtime: 79 Minutes
UPC: MAV-5687, 824355568721
Storyline
Pastor Frank is struggling to keep his ministry alive dealing with dwindling attendance and the possibility of their lender foreclosing on their church building. He has to rally his team members to keep the doors of their church open. They decide to revamp their workshop team, update some of Pastor Frank's old messages, and host a city-wide fellowship and fundraiser. Will it be enough to save their struggling ministry?
Cast
Dorien Wilson, Tiffany Edwards, Christopher Martin, Shaila Velazquez
About the Crew
Deon Gibson is a director, producer, and writer known for An Encounter with the Messiah (2015), Home of the Brave (2020), and The Green Grass (2020).
Christopher Martin is an actor and producer, known for House Party (1990), House Party 2 (1991) House Party 3 (1994) Class Act (1992), and Family Business (2014).
Dorien Wilson is an actor and producer known for Dream On (1991-1996), The Parkers (1999-2004), You Got Served (2004) and I Got the Hook up 2 (2019).
Tiffany Edwards is an actress and producer known for The Turnaround (2017), Home of the Brave (2020), and The Green Grass (2020).
Gallery