Rent or Buy Now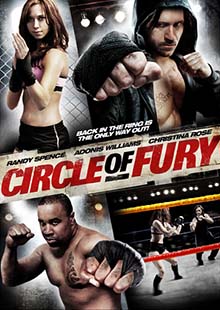 Circle of Fury
Own It September 14, 2010
Genre: Action
Runtime: 90 Minutes
UPC: MAV-5346, 824355534627
Storyline
Back from Iraq, Johnny Brown discovers that a new war is taking place in the streets of New York. In an attempt to get kids off the streets and instill the discipline he has learned in the Marine Corps, Brown launches a school for Mixed Martial Arts. But when a group of drug pushers try to use his school as a drug laundering business, an all-out brawl occurs; pitting Brown against his childhood friend, who is now pursuing a life of crime.
Directed By
Z. Winston Brown
Cast
Randy Spence, Adonis Williams, Christina Rose
About the Crew
Filled with intense mixed martial arts sequences.
Randy Spence - The Great Pretenders, The Collector.
Adonis Williams - Holy Hustler, Spanish Harlem
Christina Rose - 'All My Children'.