Rent or Buy Now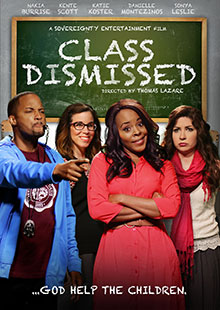 Class Dismissed
Own It July 04, 2023
Genre: Comedy
Runtime: 70 Minutes
UPC: MAV-5974, 824355597424
Storyline
When an unemployed actress finds herself broke and sleeping on her best friend's couch, she is forced to get a job as a substitute teacher working with one student. She soon realizes that it takes real super powers to deal with this "classroom terror" and dysfunctional staff.
Produced By
Nakia Burrise
Directed By
Thomas Lazare
Cast
Nakia Burrise, Kente Scott, Katie Koster, Danielle Montezinos, Sonya Leslie
About the Crew
Nakia Burrise is an actress writer and producer. She booked her first role as a series regular on the hit kids' TV show Power Rangers Zeo and Power Rangers Turbo, as the Yellow Power Ranger Tanya Sloan for 75 episodes and a feature film. She can also be seen in numerous commercials, print ads and television shows over the course of her 30+ year career, including her current recurring role as Angela Macklin on Nickelodeon's popular kids' TV show Danger Force and House Party (2023).
Kente Scott is an actor known for L.A Heat (1997), Smart Guy (1998), They Call Me Sirr (2001), Keeping the Faith: Lookin' for Mr. Right (2008), and She's the One (2020).
Sonya Leslie is an actress known for Keenan & Kel: Two Heads Are Better Than None (2000), Sid the Science Kid (2009-2015), Snowfall (2017), and Hunters (2023).