Rent or Buy Now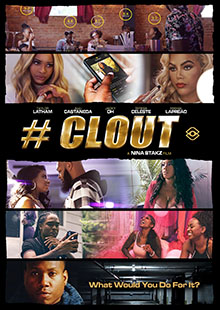 #Clout
Own It October 11, 2022
Genre: Crime, Drama
Runtime: 140 Minutes
UPC: MAV-5890, 824355589023
Storyline
In this new social media society, followers and likes are the new social currency, where people will lie, cheat, kill, and die for attention, and fame; a combination more famously known as #CLOUT. Against the vibrant backdrop of Atlanta, four stories unfold in the lives of some of the cities prominent entertainers, athletes, and influencers. Their lives are all intertwined by their dependence on the trendy social media app, "BlackFace".
Cast
Taylor Latham, Deandrae Freeman, Mikhail Lapread, Courtney Gray, Juju Castaneda, Jacky Oh, Teresa Celeste, China Green
About the Crew
Nina Stakz is a director, producer, and writer known for New Year, New Us (2021), The Aftermath (2021), and The Betrayal (2021).
Teresa Celeste is an actress with almost 1 million followers on Instagram, known for Wild 'N Out (2019), How High 2 (2019), and Trophy Wife (2022).
Juju Casteneda is an actress and TV personality known for Love & Hip Hop: New York (2016-present), Remy & Papoose: meet the Mackies (2018), I got the Hook up 2 (2019), and True to the Game 2 (2020). Juju has over 3 million Instagram followers.
Karon Riley is an Ex-NFL player turned actor known for Marry Me for Christmas (2013), Insatiable (2018), Ambitions (2019), Pinch (2020) and The Love We Had (2022).