Rent or Buy Now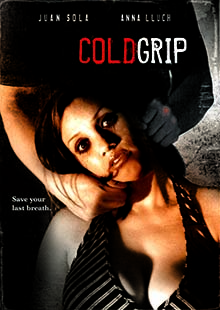 Cold Grip
Own It May 17, 2005
Genre: Thriller
Runtime: 80 Minutes
UPC: DVD: MAV-5107, DVD: 824355510720
Storyline
"Cold Grip" is a thriller that tells the tale of lust, rage, murder and death. Robert (Juan Sola) is at a bus terminal and sees a beautiful girl named Greta. After starting up a flirtacious conversation with her, the two decide to go out for a drink and possibly something more. But what Robert doesn't realize is that Greta is hiding a deadly secret of death and she has chosen him as one of her many victims. This one-night stand is really the beginning of Robert's death march. On learning the horror that Greta has inflicted on him, he proceeds to hunt down Greta to seek revenge and end her deadly spree of death with his own cold dead grip.
Directed By
Javier Barbera
Cast
Juan Sola, Anna Lluch
About the Crew
The thriller has captivating artwork and crosses over to horror and thriller genres. Making it appeal to a wider audience.
Gallery
Gallery Images are Coming Soon.