Rent or Buy Now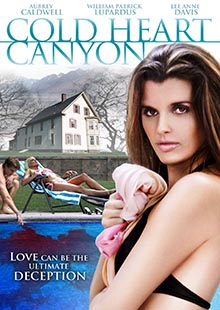 Cold Heart Canyon
Own It January 15, 2008
Genre: Erotic, Thriller
Runtime: 96 Minutes
UPC: MAV-5228, 824355522822
Storyline
Heather, a beautiful divorcee finds peace in the secluded Laurel Canyon. But all is not so quiet in the canyon that holds forbidden secrets. Things start to heat up, when Heather meets an attractive couple, Marisa and Daniel, whose intentions are to lure her into a life of eroticism. When Marisa mysteriously disappears, Heather is flooded with suspicion of her new lover Daniel. How well does she really know him? Could the man she has given herself to be a cold blooded murderer or just another dark secret in Cold Heart Canyon?
Directed By
Janine Gosselin
Cast
Aubrey Caldwell, William Patrick Lupardus, Paul Howard, Lee Anne Davis, Holly Morgan
About the Crew
A thriller with a sexual twist • Sexual fantasies turn deadly in this hot erotic thriller!• Fatal Attraction meets Wild Things.• Tastefully done sex scenes.• Suspense, Action and Sex all bundled up in the Southern Californian Canyons.