Rent or Buy Now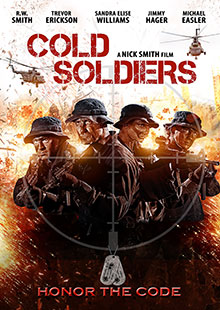 Cold Soldiers
Own It June 05, 2018
Genre: Action
Runtime: 101 Minutes
UPC: MAV-5551, 824355555127
Storyline
Welcome to the Kershaw Institute, a rehabilitation center for highly trained spies & soldiers who have cracked on the battlefield. At Kershaw, they keep their skills honed and ready for war, with psychologist John Dance assessing their mental stability. Dance is surrounded by combat-ready patients who could turn on him at any moment. Instead they turn on the review board that assesses the Institute's future. It's up to Dance to find out which of his patients are involved as the board members start to die. He has to find out quick; his wife is on the board and in the line of fire.
Produced By
Nick Smith & Trevor Erickson
Cast
Trevor Erickson, RW Smith, Daniel Jones, Sandra Elise Williams, Jimmy Hager
About the Crew
Nick Smith He is an actor and producer, known for Diagnosis: Psycho (2017), Apron String Theory (2017) and Cole Younger & The Black Train (2012).
Trevor Erickson is an actor and producer, known for John Lauren's War (2017), Tracer (2014) and All for Liberty (2009).
Sandra Elise Williams is an actress known for The Notebook (2004), Untouched (2017) and Hot Summer Nights (2017).
R.W. Smith is an actor and writer, known for The Persistence of Memory (2014), Army Wives (2007) and Snap Judgment (2011).
Gallery