Rent or Buy Now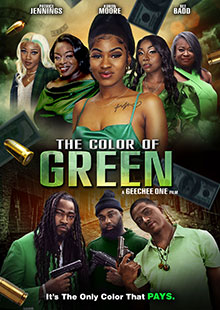 The Color of Green
Own It April 25, 2023
Genre: Action, Drama
Runtime: 79 Minutes
UPC: 824355591422, 01:18:30
Storyline
Alexa Greene is relentless at securing the bag. She soon discovers how true character is built when green dollars give her the blues.
Produced By
Felicia Rivers, Isaac Hilton Jr.
Directed By
Felicia Rivers
Cast
Patrice Jennings, Kuron Moore, Bee Badd
About the Crew
Felicia Rivers is a director, writer, and producer known for Treasure Box (2021), Suga Babies (2021), and Tiffany the Doll (2022).
Patrice Jennings is an actress, known for Toxic Alien Zombie Babes from Outer Space, Treasure Box (2020) and Carolina Dreamz (2022).