Rent or Buy Now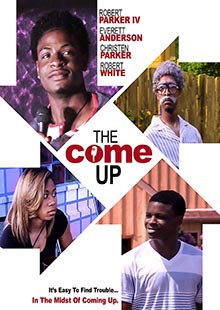 The Come Up
Own It August 22, 2017
Genre: Comedy
Runtime: 83 Minutes
UPC: MAV-5533, 824355553321
Storyline
The Come Up is about a young comedian who struggles to try to make it but the streets get him caught up. Hanging with the wrong crowd eventually gets him kicked out his mom's house after drugs and stealing puts her over the edge. With the help of his girl that stays by his side to help him get straight and in order, things start looking up and finally fall into place.
Produced By
Robert L. Parker III
Directed By
Robert L. Parker III
Cast
Robert L Parker IV, Michelle Harleston, Robert White, Christen Parker, Everett Anderson
About the Crew
Everett Anderson is known for his work on Hongo, A Troubled Mind (2015) and The Paper Trail (2016).
Ronrico Albright is an actor and producer, known for Devil's Creek (2014), Ryder (2015) and The Alexanders.
A. Michelle Harleston is an actress, known for Fatal Attraction (2013), Homicide Hunter: Lt. Joe Kenda (2011) and The Sin Seer (2015).
Gallery