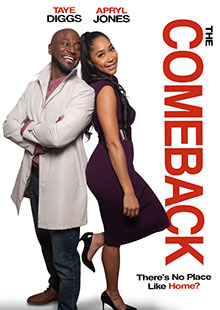 The Comeback
Own It November 07, 2023
Genre: Comedy, Drama, Romance
Runtime: 88 Minutes
UPC: MAV-6067, 824355606720
Storyline
Jeff and Tisa Murray have decided to move their family back to their hometown of Atlanta when Tisa is offered her dream job. The dream becomes a hilarious reality when family issues, Momís new boyfriend, and ex-lovers are waiting on them upon their return.
Produced By
J. Carter, LaShon Carter, Kiah Clingman, Erica Barrabi-Centeno, Susan Zachary
Directed By
Ariel Julia Hairston
Cast
Taye Diggs, Apryl Jones
About the Crew
Taye Diggs is an award-winning actor best known for How Stella Get Her Grove Back (1998), The Wood (1999), The Best Man (1999), The Best Man Holiday (2013), All American (2018-2023), and The Best Man: The Final Chapters (2022).
Apryl Jones is an actress and influencer best known for Love & Hip Hop: Hollywood (2014), I Got the Hook up 2 (2019), You Married Dat (2022), and Love & Murder: Atlanta Playboy.