Rent or Buy Now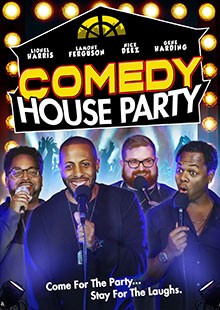 Comedy House Party
Own It August 02, 2022
Genre: Comedy
Runtime: 88 Minutes
UPC: MAV-5862, 824355586220
Storyline
Top comedians from around the country perform their unique brand of urban comedy live at the world famous Cozzy's Comedy Club featuring GENE HARDING, NICK DEEZ, LIONEL HARRIS, and LAMONT "FERG" FERGUSON.
Produced By
Bryan Thompson, Ernest Smith, Lamont Ferguson
Directed By
Bryan G. Thompson
Cast
Gene Harding, Nick Deez, Lionell Harris, Lamont Ferguson
About the Crew
Bryan G. Thompson is as award-winning director and producer known known for El Sueno (2016), Rogue Cell (2019), Thanksgiving with the Carter's (2019), Valentine's Date (2021), and Carters Family Reunion (2021). Thompson is also the founder and CEO of the Miami Web Series Festival, also known as Miami Web Fest.
Lamont Ferguson is an actor and comedian known for Mother of a Day (2019), Carters Family Reunion (2021), and Thanksgiving with the Carters 2: Second Helping (2021).