Rent or Buy Now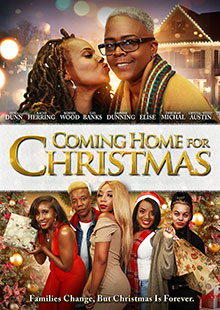 Coming Home for Christmas
Own It November 01, 2022
Genre: Drama, Holiday, LGBT
Runtime: 100 Minutes
UPC: MAV-5848, 824355584820
Storyline
Coming home for the holidays is something most families cherish. After this holiday, Christmas will never be the same in the Higher-Mills family. Coming from mixed backgrounds, adopted siblings Smythe, Hanna, Bea, Shane, and Lonny along with their parents, Pat and Samantha, try to navigate their changing family and reunite during the holiday season.
Produced By
B. Danielle Watkins, Onyx Keesha, Gino R. Payne
Directed By
B. Danielle Watkins|Onyx Keesha|Gino R. Payne
Cast
Zenja Dunn, Rachi Herring, Ronnie Wood, Gio Banks, Daphne Dunning, B. Elise, Deborah Michal, Crystal "Stizz" Austin
About the Crew
B. Danielle Watkins, author, screen-writer, and film maker, was born and raised in Buffalo, New York. Taking her career to the next level Ms. Watkins became the first and only African American filmmaker to write, produce and star in a REVRY original series, "3030". 2019 proved to be one of her most defining years in her film career. After winning four Telly Awards for the documentary entitled "GRRRL: The Beauty of the Beast" and launching the second season in her original series "3030". She has earned a plethora of accolades and acknowledgements in the film industry, making her an alchemist in the game.
Onyx Keesha is a director, actress and producer known for Between Women (2011-2013), 30 30(2019), and Fatal Attraction (2022).
Deborah Michal is ac actress known for Behind Closed Doors (2021), The Benefit List (2022), and BMF (2022).
Rachi Herring is an actress known for Only girl in the world (2021), Pimpstress (2022), and Insatiable (2023).