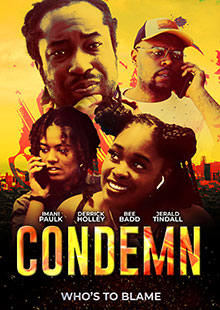 Condemn
Own It September 05, 2023
Genre: Drama
Runtime: 79 Minutes
UPC: MAV-5958, 824355595826
Storyline
College student, Quan, is presented with an opportunity too good to turn down. When she lets her sister, Bree, in on the deal, she takes it to the next level. Soon Quan realizes they both are in too deep, and is faced with the consequences.
Produced By
Derrick Holley, Alicia Kittrell
Directed By
Alicia Kittrell
Cast
Imani Paulk, Derrick Holley, Bee Badd, Jerald Tindall
About the Crew
Derrick Holley is actor, director, and editor known for Karma (2013), Karma 2 (2018), and Suppress (2018).
Bee Badd is an actress known for Lilith's Ball: 7 Deadly Sins (2022), Pieces (2023), and The Color Green (2023).