Rent or Buy Now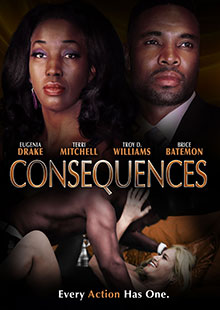 Consequences
Own It August 09, 2022
Genre: Drama, Thriller
Runtime: 101 Minutes
UPC: MAV-5850, 824355585025
Storyline
Movanni Stewart is a successful businesswoman, with a traumatic past of abusive relationships, that has stalled her from finding romance. Kita, her best friend sets out on a mission to find her love again, and introduces her to Donovan Williams. When Movanni finally lets her guard down after giving in to his advances, he betrays her trust. She is stuck between a rock and a hard place because she loves him. Will love prevail or is it time for her to let go?
Produced By
Eugenia Drake, Austin Spicer
Directed By
Eugenia Drake
Cast
Eugenia Drake, Brice Batemon, Terri Mitchell, Troy D. Williams
About the Crew
Eugenia Drake is an actress and director known for Finding Me (2018), Crescent City Chronicles: sanctuary (2018), and Consequences (2022).
Troy D. Williams is an actor known for The Turnaround (2017), Henri (2017), Fatal Attraction (2020), and Secret Society (2021).