Rent or Buy Now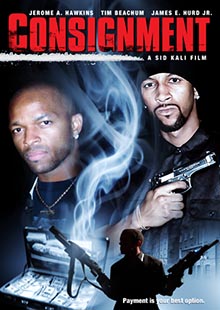 Consignment
Own It November 13, 2007
Genre: Action
Runtime: 86 Minutes
UPC: MAV-5231, 824355523126
Storyline
Based on true events, CONSIGNMENT is about Tommy Jones, a reluctant East Coast drug dealer on the run with his wife, Yolanda, after a rival kingpin's plan to have him ripped-off and murdered goes wrong. In need of fast cash to go straight, the pair head to California, where Tommy hooks up with his cousin, a reckless, hot-tempered drug dealer. Tommy quickly gets in over his head and is forced to take a large shipment of crystal meth on consignment from a ruthless Latino gangster. Double-crosses, a series of brutal murders, and an old secret from his wife's past foils Tommy's plans for a new start at life.
Cast
Jerome A. Hawkins, Tim Beachum, James E. Hurd Jr., Walter Pagan, Ruben Navarro and Stream Gardner
About the Crew
Inspired by true events, this gritty tale, gives a true life depiction of life on the streets.