Rent or Buy Now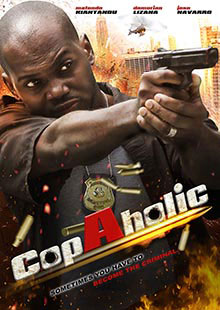 Copaholic
Own It April 04, 2017
Genre: Action, Drama
Runtime: 80 Minutes
UPC: MAV-5526, 824355552621
Storyline
Two cops go undercover to investigate a known killer and drug dealer who hides his identity behind a ski mask. When one cop has his fiancé kidnapped and is blackmailed to turn against both sides, his partner is under pressure to kill him. Between corruption within the department and the cops themselves, they must overcome many obstacles. Will corruption prevent them from taking down enemy?
Produced By
Matondo Kiantandu
Directed By
Matondo Kiantandu
Cast
Matondo Kiantandu, Bret. E., Demorian Lizana, Anastasiya Rul
About the Crew
Demorian Lizana is an actor and producer, known for Meanwhile in Mississippi, From the Rough (2013) Before You Can Blink (2015) and the Saints of Mt. Christopher (2011).
Matondo Kiantandu is an actor and writer, known for Before You Can Blink (2015), CopAholic (2017) and Room 511 (2016).
Bret 'E'. (Bret E. Benson) Best known throughout the Internet as 'The Most Positive Actor in Georgia'. Nationally known from the Series ATLANTA (2016), Tyler Perry's the Haves and Have Nots (2016).
Gallery