Rent or Buy Now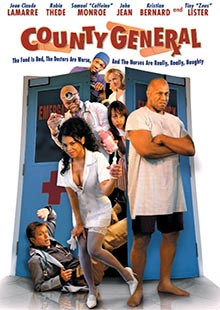 County General
Own It June 01, 2005
Genre: Comedy
Runtime: 86 Minutes
UPC: DVD: MAV-5126, DVD: 824355512625
Storyline
CRAIG, a down-on-his-luck film student, has just failed his first important class exam - a low budget remake of Titanic shot in his bathtub! After receiving an 'F', he is offered some encouraging advice from his girlfriend, Simone who suggests that Craig film the craziness at COUNTY GENERAL hospital where she works. The doctors are quacks, the patients are confused and the nurses bring new meaning to 'bedside manner.' What begins as an innocent student project turns into a hilarious romp through the halls of the wackiest hospital in the hood.
Directed By
Sphear Collins
Cast
Jean Claude LaMarre, Robin Thede, Samuel "Caffeine" Monroe, John Jean, Kristian Bernard, and Tiny "Zeus" Lister
About the Crew
Comedies really work on home video and have great rental and sell-through value.
Fresh zany artwork
Featuring well know Tiny Zeus Lister
Gallery
Gallery Images are Coming Soon.