Rent or Buy Now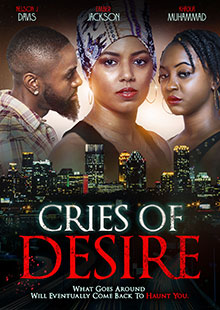 Cries of Desire
Own It June 28, 2022
Genre: Thriller
Runtime: 100 Minutes
UPC: MAV-5812, 824355581225
Storyline
Jermaine an aspiring male model controls his wife Ariel until a terrible accident invites a dangerous affair.
Produced By
Nelson J. Davis, Marlin Goodwin
Directed By
Dashelia Goodwin
Cast
Nelson J. Davis, Ember Jackson, Khadija Muhammad
About the Crew
Nelson J. Davis is an actor and director known for Secure the Bag (2019), Unwitting Deceit (2020), Ultimatums (2020), and Forbidden Fruit (2021).
Khadija Muhammad is an actress known for House of Terror (2013), Season's Grieving's (2019), and Bondage (2020).