Rent or Buy Now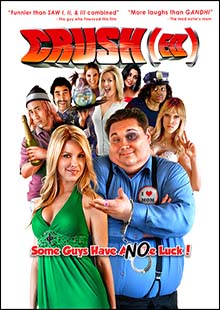 Crush(ed)
Own It October 13, 2009
Genre: Comedy
Runtime: 92 Minutes
UPC: MAV-5303, 824355530322
Storyline
Wilbur Krump has just about every card stacked against him; with an empty bank account, a dead-end job, a few extra pounds, and a cop who has it out for him. If that's not enough he still lives with his mother! So who in their right mind would want to marry him? Follow this improbable story of how a guy so 'down on his luck' finds his way to the chapel.
Cast
Scott Dittman, Alby Castro, James Cahill, Nicole Andrews, Amelia Jackson-Gray
About the Crew
Amelia Jackson-Gray - Journey to the Center of the Earth, Snakes on a Train
Nicole Andrews Penthouse, The Pig People
Great Comedy Film
Gallery
Gallery Images are Coming Soon.