Rent or Buy Now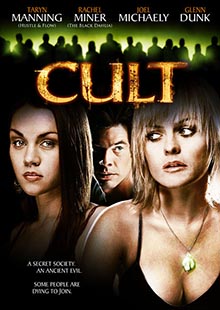 Cult
Own It March 06, 2007
Genre: Thriller
Runtime: 85 Minutes
UPC: MAV-5238, 824355523829
Storyline
College students, Mindy (Rachel Miner, The Black Dahlia, Penny Dreadful), Cassandra (Taryn Manning, Hustle & Flow, Cold Mountain, 8 Mile) and Alex (Joel Michaely, Wonderland, The Rules of Attraction, Ghost World) are researching an old local cult for a class project. Their investigation uncovers the source of the cult's power came from a magical jade amulet of ancient Chinese origin. The local leader of the sect unsuccessfully attempted to harness its energy with the mass sacrifice of his all-female followers. Now the classmates have uncovered the amulet, and unleashed supernatural powers that may take their lives...and their souls!
Cast
Taryn Manning, Rachel Miner, Glenn Dunk, Rob Berson, Susan Parks and Joel Michaely
About the Crew
Official Selection -2006 Shriekfest Film Festival Los Angeles
This Supernatural thriller with Real Star Power! Starring Hollywood's Fastest Rising Stars, Taryn Manning and Rachel Miner!
This star driven thriller crosses the line between the dead and the living ...When a college projects takes over your life and your friend start to die, what do you do next?