Rent or Buy Now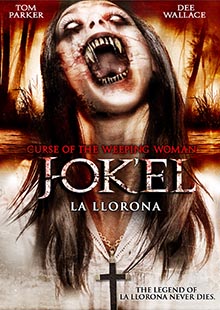 Curse of the Weeping Woman: J-ok'el
Own It June 24, 2008
Genre: Horror
Runtime: 88 Minutes
UPC: MAV-5287, 824355528725
Storyline
The terrifying legend of J-ok'el just might be true! While searching for his missing sister George learns the haunting details of the J-ok'el legend (La Llorona); a woman who drowned her own babies centuries ago and whose spirit has returned to claim more children as her own.
Directed By
Benjamin Williams
Cast
Tom Parker, Ana Patricia Rojo, Dee Wallace, Jesus Ochoa, Diana Bracho, Pamela Trueba, Angelique Boyer
About the Crew
Starring Movie Icon, Dee Wallace -(The mom in the major motion picture E.T.)
Director Benjamin Williams and Composer George Shaw won the Gold Medal for Excellence in the Best Impact of Music in a Feature Film category at the Park City Film Music Festival for their work on J-ok'el
Diana Bracho: Won Best Actress for her role in 'Baul Lleno de Miedo' at the Mexican Cinema Journalists, was Nominated for Best Supporting Actress for her role in 'Caras de la Luna' at the 2002 Ariel Awards in Mexico and was Nominated for Best Actress for her role in 'Entre Pancho Villa' y 'Una Mujer Desnuda' at the 1996 Ariel Awards
J-ok'el means 'The Crying Woman' in Tzotzil dialect, but is based on the Mexican myth legend of La Llorona.
The J-ok'el trailer has more than 6,000 hits and a 4 star rating on YouTube
Promoted on Maverick's corporate Facebook page
Gallery
Gallery Images are Coming Soon.