Rent or Buy Now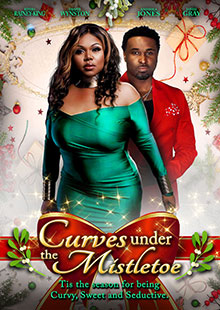 Curves Under the Mistletoe
Own It November 07, 2023
Genre: Drama, Holiday, Romance
Runtime: 152 Minutes
UPC: MAV-6010, 824355601022
Storyline
Faced with countless trial and tribulations, curvaceous Delight finds her strength, peace, and most of all love as she makes her way in the world.
Produced By
Kendra Rainey-King. DeMarcus Bailey
Directed By
LaKisha Avery-Stewart
Cast
Kendra Rainey-King, Draper Wynston, Anishea Jones, Jared Gray
About the Crew
Kendra Rainey-King embarks novels full of passion, self-love, reflection, gritty-story-lines and most of all the relatable yet innovative stories with messages from the heart. With fifty books under her belt, the National Best-Selling Author hailing from the streets of Dallas, Texas isn't going to pump the breaks as she works towards her first movie, Knee Deep and second movie: Curves Under the Mistle-toe.
Draper Wynston is an actor and producer known for Unexceptional Love (2012), #Washed (2020), Love & Drugs 2 (2020), and Why Women Trip (2022).