Rent or Buy Now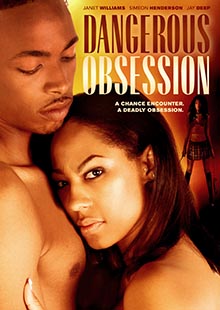 Dangerous Obsession
Own It April 08, 2014
Genre: Thriller
Runtime: 78 Minutes
UPC: MAV-5428, 824355542820
Storyline
The story of 26-year-old Brandi Seaton. She is attractive, smart and single. After breaking off her engagement the day before her wedding, she decides to test the waters of the singles dating scene. How and where to begin is the problem. Brandi's roommate, Anita introduces her to a telephone 'party line' where she meets a handsome, professional named Alex. After one meeting both Brandi and Alex's lives change as their friendly conversations grow into obsessions and culminate in a tragic encounter.
Produced By
Chris L. Griffin
Directed By
Chris L. Griffin
Cast
Janet Williams,Jay Deep, Simeon Henderson, Jami Travis, Shanara Fornett
About the Crew
Simeon 'SIMBO' Henderson has been featured role as a Survivor in War of the Worlds and a featured role on the hit Fox show Prison Break.
Jay Deep's career has grown to the screen in films such as Barbershop, Barbershop 2: Back in Business, Parked, Light It Up and look for his performance on P. Diddy's DVD, The Bad Boys of Comedy.
Gallery