Rent or Buy Now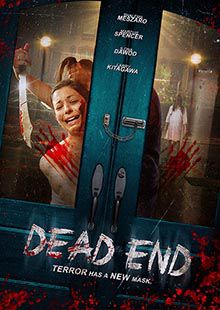 Dead End
Own It January 19, 2016
Genre: Horror
Runtime: 90 Minutes
UPC: MAV-5499, 824355549928
Storyline
Demons haunt Tina after she begins to open the case of the murderer who claimed the lives of school children in her town. Her devotion to the case manifests frightening paranormal activities around her and the spirits haunt her day and night. She reaches out to a priest who sheds light on the situation. She soon realizes she must endure frightening terror if she is to find this bloody murderer.
Directed By
Jordan F. Ghanma
Cast
Marcus D. Spencer (Big Spence), Shalema Meszaro, Larry Kitagawa, Nicole R. Hughes
About the Crew
Marcus D Spencer, Character actor in 40+ films and TV shows including, Milk Money, (2011), Money Ball, 20 Old Virgins (2011), Money for Angels, (2012), Family First: The Marshawn Lynch Story (2015) and many more.
Jordan F. Ghanma is a writer and director, known for 20 Year Old Virgins (2011), Dead End (2014) and Chasing Shadows (2010).
Larry Kitagawa was born as Lawrence Jay Kitagawa. He is known for his work on Red Dress (2013), Want Ads (2012) and Steve Jobs (2015).
Nicole R. Hughes acted in 'Money for Angels'(2012), directed by Michael Fredianelli.
She starred in feature films, as well as TV shows, Wives with Knives, 50 Ways to Leave Your Lover, and Unusual Suspects.
Gallery