Rent or Buy Now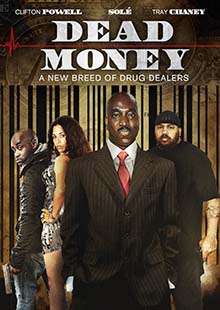 Dead Money
Own It May 21, 2013
Genre: Action
Runtime: 96 Minutes
UPC: MAV-5402, 824355540222
Storyline
Four drug kingpins deal with inner turmoil, familial strife, and heightened stakes while taking a chance on a risky business proposition of organ trafficking.
Directed By
Frank E. Jackson Jr.
Cast
Tonya Sole Lumpkin, Walter Maxfield Jones, Che G. Evans, Joe "Weaze" Carter, Demetrius Parker, Shalon Delgado, Sheena Scott, Kena Hodges
About the Crew
Starring Clifton Powell, known for his role of Pinky in the comedy Next Friday.
Tray Chaney - HBO's The Wire and Lorenzo & Monica.
Chante Bowser and Tia Dae from the web series Anacostia.
Tonya 'Sole' Lumpkin - American female rapper and wife of R&B singer Ginuwine.