Rent or Buy Now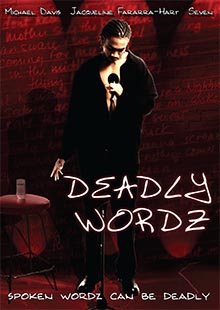 Deadly Wordz
Own It April 01, 2003
Genre: Drama
Runtime: 95 Minutes
UPC: MAV-5024, 824355502428
Storyline
A Spoken Word Can Be Deadly. The annual Spoken Word Competition is coming and Werdz Steele is sure to win. He's a phenomenal poet with creativity, depth and delivery. Other talented poets will enter the contest, but Werdz has an advantage... his dad owns the club hosting the event. How can Werdz lose? He can't lose. He won't lose. When he wins, more ladies will love him... When he wins fellow poets will respect him... But before he even competes someone will kill him. The story unfolds as secrets are told and Werdz is murdered and found in his office. But who would kill and why, the detectives try to find answers and the reason behind it. With as many motives as suspects, whether it's money or respect, you'll keep guessing until the end. Is it the Jamaican kingpin? A poet? His best friend? His dad? The bartender? Or an ex-girlfriend? All have reasons to kill, but which one actually will be angry enough and voice it?
Cast
Seven, Michael Davis, Jacqueline Farerra-Hartt
About the Crew
This movie similar to '8-Mile' showcases street poetry.