Rent or Buy Now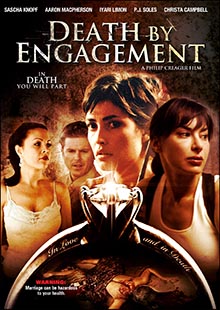 Death by Engagement
Own It October 02, 2007
Genre: Thriller
Runtime: 99 Minutes
UPC: MAV-5237, 824355523720
Storyline
Ditched at the altar, the violent-tempered groom causes his runaway bride's car to crash, then proceeds to bash her head with a tire iron. Now, with the former bride in a coma, her antique engagement ring begins a mysterious and deadly passage from one desperate-to-be married young women to another, with each ending up brutally murdered! Two police detectives, sexy feminist Rikki (Sascha Knopf) and the cocky macho Cade Hamilton are sent to investigate the vicious serial killings. Rikki and Cade find themselves always one step behind the killer, who is bent on reclaiming the heirloom engagement ring.
Directed By
Philip Creager
Cast
Sascha Knopf, Aaron MacPherson, Iyari Limon, Christa Campbell, Ryan Hansen, Julian Berlin with P.J. Soles
About the Crew
Starring Young Hot Stars:SASCHA KNOPF ('Shallow Hal' )IYARI LIMON ('Buffy, The Vampire Slayer'), CHRISTA CAMPBELL ('2001 Maniacs', 'Wicker Man'), RYAN HANSEN ('Veronica Mars')
and Veteran Horror Actress, P.J. SOLES (' The Devil's Rejects', 'Halloween', 'Carrie')
Best Horror Feature Finalist Chicago Horror Film Festival
Winner-Best Horror Feature-Hollywood Dv Film Festival
Winner-Best Slasher Feature- Halloween Horror Picture Show
'This movie is fun, smart, witty and feels fresh with its take on the slasher genre'. Pretty-Scary.Net
'There's plenty of blood and nudity to satisfy those fans and a pretty well written story to satisfy everyone else' --Rick Danford, Sirens of Cinema
Gallery
Gallery Images are Coming Soon.