Rent or Buy Now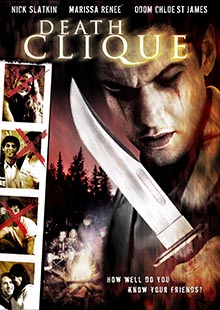 Death Clique
Own It July 11, 2006
Genre: Horror
Runtime: 91 Minutes
UPC: MAV-5179, 824355517927
Storyline
A high school clique spends a long weekend at a secluded home in the woods. Before they set off, the friends learn that a former fellow student and school outcast has been released from juvenile detention after evidence that he murdered his family a year earlier cannot be found. Once at the house, they play an innocent game of Truth or Dare. Tensions rise and tempers flare as seemingly close friends reveal hidden relationships with the accused killer. Soon after, one by one, the clique starts to vanish leaving only a trail of blood. Will any survive the weekend to ultimately discover who their true friends really are?
Directed By
David Basulto
Cast
Nick Slatkin, Marisa Rene Odom, Chloe St. James, Lesley Paterson, Reginald Jernigan, Franci Montgomery, John Yono, Devon M Clarke III, and introducing Ryan Carty as "Bobby"
About the Crew
Death Clique: Be careful of a clique you are dying to get into!Great suspense horror for the summertime blues!.