Rent or Buy Now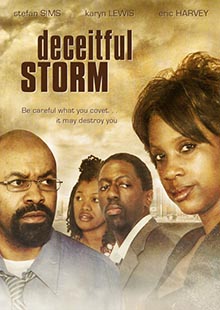 Deceitful Storm
Own It June 10, 2008
Genre: Drama
Runtime: 116 Minutes
UPC: MAV-5266, 824355526622
Storyline
This powerful drama about love, pain, deceit and betrayal reveals what can happen when people stop believing in God and take matters into their own hands. A dramatic twist and turn of events through abuse, neglect and infidelity lead to an explosive conclusion.
Cast
Eric Harvey, Stefan Sims, Karyn Lewis, Felicia Kerney
About the Crew
Deceitful Storm screened at the African American Women In Cinema 10th Annual Film Festival and the 2007 Independent Black Film Festival
Based on the inspirational stage play 'Through the Storm'
Deceitful Storm has a myspace video page
Promoted on Maverick's corporate Facebook page
Gallery
Gallery Images are Coming Soon.