Rent or Buy Now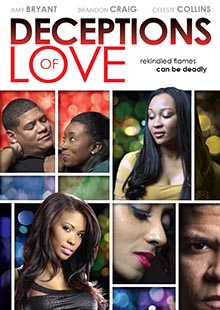 Deceptions of Love
Own It November 19, 2013
Genre: Thriller
Runtime: 121 Minutes
UPC: MAV-5454, 824355545425
Storyline
Newlyweds, Morris and Venice start out with the best intentions of a marriage made in heaven. But the trials of matrimony can lead anyone astray+Z165. Shanna, Morris' ex, returns with a vowed vengeance to get her man. She has taken residence; body and spirit and it proves to be too much for the happy couple.
Produced By
Snoop Robinson
Directed By
Snoop Robinson
Cast
Snoop Robinson, Amy Cannon Bryant, Gin Blanton, Celeste Collins, Brandon Craig, Andromeda Jones
About the Crew
Urban Fatal Attraction
Stars and Directed by Snoop Robinson(Director of 'She's Not Our Sister and Unexceptional Love ').
'Deceptions of Love' is well written, has a great cast, and all of the ingredients to make it a spellbinding love story of our time. You will not be disappointed with this movie. Vincent L Hall 'The Dallas Weekly'.
Music by RC Williams Music Director for Erykah Badu and Snoop Dogg.
Gallery