Rent or Buy Now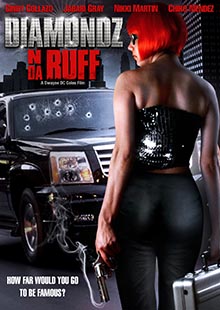 Diamondz N Da Ruff
Own It September 05, 2006
Genre: Thriller
Runtime: 120 Minutes
UPC: MAV-5183, 824355518320
Storyline
What happens when your dreams and ambitions are so strong that you'd go to any lengths to make them a reality? Haunted by the violent death of her mother, seemingly naive and beautiful Bianca Hernandez arrives in rough 'n tough New York. Determined to be discovered as an actress, she quickly finds herself victimized and desperate for money. Soon, sweet-natured Bianca develops a hard edge by working for Carlos, a club owner and drug lord. How long can Bianca survive her cruel situation before reaching success as a ruthless killer rather than as an actress?
Directed By
Dwayne DC Coles
Cast
Cindy Collazo, Jabari Gray, Nikki Martin, Chiko Mendez, Laura Turzo, Vanessa Almodovar, and special guest Kendall Holt
About the Crew
High-Quality Urban/Latino Action!
Great artowrk that sells
Appeals to wide demographic of Urban and Latino customer base.
Special appearance by welterweight boxer, Kendall Holt
Gallery
Gallery Images are Coming Soon.