Rent or Buy Now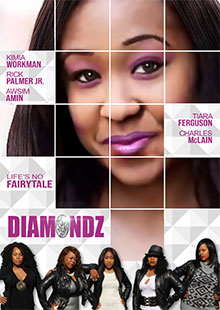 Diamondz
Own It June 11, 2019
Genre: Thriller
Runtime: 89 Minutes
UPC: MAV-5607, 824355560725
Storyline
Diamondz is a movie based on seven young ladies that have no parental guidance trying to find their way. Making a few bad decisions along the way, many lessons are learned along their journey. Together they will learn about true friendship, betrayal, heart ache and pain. While experiencing sensuous and steamy encounters at the same time, this movie will intrigue and stimulate you, whatever your experience with romantic or friendly relationships may be. Learn about the differences between seven woman and the circumstances that shape their interesting lives. Travel with them as they come to find out, life's no fairytale.
Produced By
Tyeisha Downer
Directed By
Tyeisha Downer
Cast
Kimia Workman, Rick Palmer Jr., Asim Amin, Tiara Ferguson, Charles Mclain
About the Crew
Kimia Workman is an actress known for Guns and Grams (2016), I Still Have Joy (2016), and Burning Sands (2017).
Asim Amin is an actor, known for For My Man (2015), Archives of the Heart (2015) and Shock Nation (2017).
Tiffany Yancey is an actress known for Split Second (2012), The Real Cupid (2013), and Love Him or Leave Him (2015).