Rent or Buy Now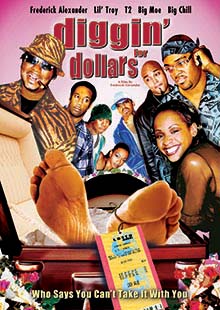 Diggin' For Dollars
Own It October 26, 2004
Genre: Comedy
Runtime: 105 Minutes
UPC: MAV-5064, 824355506426
Storyline
Kevin and Paul are 2 old friends looking to have a good time. They join their friend Big Bear, a compulsive gambler, for a night of laughter and Ladies. Before the night is through Big Bear will lose the biggest gamble of all; his life. However, he does take a valuable secret to the grave with him.There seems to be only one winner in the $35 million Texas Lotto jackpot and this winner has yet to show up to collect his winnings. Kevin and Paul believe they are the only ones who knows of Big Bears' secret. Well they are wrong because 3 local hoods have come up with the same conclusion as Kevin and Paul. Therefore, the race is on for a valuable secret that lays 6ft underground, a winning Lotto ticket.So everybody put on your gloves get your shovels because we are going 'Diggin For Dollars'.
Directed By
Frederick Alexander
Cast
Frederick Alexander, Lil' Troy, T2, Big Moe, and Big Chill
About the Crew
Because Urban Comedies really Work, this title will be featured in an upcoming issue of XXL magazine to help maximize the potential on home video.