Rent or Buy Now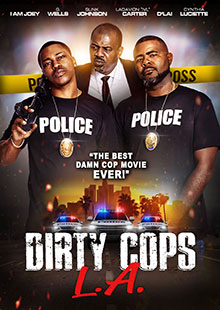 Dirty Cops LA
Own It November 15, 2022
Genre: Action, Comedy
Runtime: 100 Minutes
UPC: MAV-5889, 824355588927
Storyline
Ex-hustler turned cop, Detective Jackson and his Partner Detective Johnson, an ex-gang member turned shady do-gooder, bring a new meaning to the phrase "boys-in-blue". Normally pre-occupied with robbing and assaulting the city's criminal element, they also make time to close a few cases along the way. The city has been taken over by an outsider known as "El Jefe", a Mexican drug lord that has decided to make LA his new home. Jackson and Johnson plan on helping him get "settled in".
Produced By
Jovonny Holloway, Gregory Wells, Shanell Holloway, Sparkle Holmes, Joshua Prince
Cast
I AM JOEY, G. Wells, Slink Johnson, Ladavion "IVL" Carter, D'Lai, Cynthia Luciette
About the Crew
Jovonny Holloway is a producer and director, known for Dirty Cops L.A. (2021) and Who Is Gatsby Randolph (2019).
Gerald "Slink" Johnson is an actor known for Sharknado 3 (2015), DWB: Dating While black (2018), Kevin Hart's Guide to Black History (2019), Black Jesus (2014-2019), and Space Jam: A New Legacy (2021).
D'Lai is an actor and comedian who has gone on to appear on Showtime, HBO's All Def Comedy, his own 30 minute Special produced by Kevin Hart(LOL Network), BET's ComicView, and he's the Co- Star of the "Did You Miss Me" storytelling podcast. His quick wit and knockout smile are just an added bonus to an act that spins hilarious thoughts on current events and everyday happenings.