Rent or Buy Now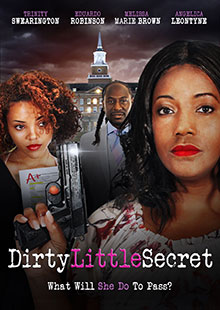 Dirty Little Secret
Own It May 24, 2022
Genre: LGBT, Thriller
Runtime: 99 Minutes
UPC: MAV-5816, 824355581621
Storyline
To pass a college course, Elaine, comes on to her female professor, and is met with unexpected consequences.
Produced By
Bobby M. Peoples & Renee Peoples
Directed By
Bobby M. Peoples, Renee Peoples
Cast
Angelica Leontyne, Trinity Swearington, Eduardo Robinson, Melissa Marie Brown
About the Crew
Bobby Peoples is a producer, director, and writer known for Taboo (2016), Fixation (2018), Domestic Warfare (2020), and Taboo 2 (2020).
Angelica Leontyne is an actress known for Fixation 2 (2019), Domestic Warfare (2019), and Forbidden Fruit: First Bite (2021).
Eduardo Robinson is an actor known for Take Out Girl (2020), Taboo 3 (2022), and Pimpstress (2022).