Rent or Buy Now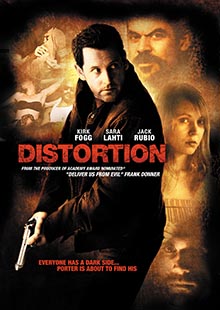 Distortion
Own It June 05, 2007
Genre: Thriller
Runtime: 83 Minutes
UPC: MAV-5234, 824355523423
Storyline
Porter's wild ride begins when his girlfriend, Rachel (Sarah Lahti) makes a deal with a sleazy internet porn producer to help bankroll their exit from LA. While Porter is in a back room with other 'performers', a drugged Rachel performs for the camera. When Rachel is forced to do an objectionable sex scene, she calls out for his help, and a whacked out Porter makes a futile attempt to rescue her. Instead, he wakes up hours later, left for dead on the banks of the Los Angeles River. When Porter reports Sarah's abduction to the police, they don't believe his drug-hazed story. So he goes it alone, relying on his cunning and detective experience to try and save Rachel's life as well as his own!
Cast
Kirk Fogg, Sarah Lahti, Jack Rubio, Corbin Timbrook, Art Chudabala, Grant Reynolds
About the Crew
From OSCAR-nominated producer, Frank Donner (Best Doc Feature- 'DELIVER US FROM EVIL')
Breakout Performance by Actor/Director Kirk Fogg, (well-known as host of Nickelodeon's game show hit 'Legend of the Hidden Temple' (Legends of the Hidden Temple currently seen on Nickelodeon GAS.
Kirk Fogg Has a Huge Fan Base, 18-24 Demographic who grew up watching Fogg on Nickelodeon.
In the footsteps of 'Running Scared', 'Crank', and 'Kiss Me Deadly' Distortion Rocks with Action, Drugs and Sex, in a classic Film Noir style
A high action reality trip that will keep you glued to your chair!