Rent or Buy Now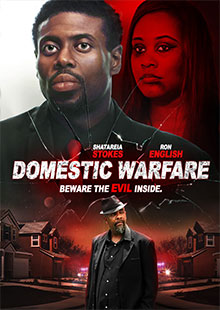 Domestic Warfare
Own It March 03, 2020
Genre: Thriller
Runtime: 75 Minutes
UPC: MAV-5630, 824355563023
Storyline
When a generational curse catches up to Sisley, she must try to overcome all the obstacles throughout her life and learn to forgive or suffer mentally for all eternity.
Produced By
Bobby Peoples & Renee Peoples
Directed By
Bobby Peoples & Renee Peoples
Cast
Shatareia Stokes, Ron English, Princess Elmore, Nic Starr
About the Crew
Bobby Peoples & Renee Peoples are a husband and wife team known for many films that they've worked on together from producing to directing such as The Last Assignment, Taboo, Dexter's Guide to Dating, Fixation and Fixation 2.
Shatareia Stokes is an actress and producer, known for Prescription for Love, Roommates and Color Blind.
Princess Elmore is actress and her theatrical and film credits include He Who Finds a Wife, Finds a Good Thing, In the Midst of It All, Lord Change My Heart, Denied Unemployment, and Fixation 2.
Ron English is an actor and producer, known for Five Days in the 'A', Unspoken Words and Domestic Warfare.
Gallery