Rent or Buy Now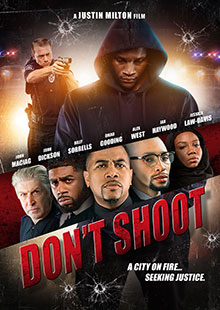 Don't Shoot
Own It October 06, 2020
Genre: Thriller, Drama
Runtime: 119 Minutes
UPC: MAV-5690, 824355569025
Storyline
After the unarmed shooting of William King, a college bound black teen, by two white officers, a city is on fire as it seeks justice in these times of racial division.
Produced By
Justin Milton & Lekisha Lemons
Directed By
Justin Milton
Cast
About the Crew
Justin Milton is a producer and writer, known for The Foreign Exchange Student (2018), The Perfect Wife (2019) and Behind Closed Doors (2020).
Omar Gooding is an actor known for Smart Guy (1997-1999), Baby Boy (2001), Percentage (2014), Before 'I Do' (2017), and Bounce TV's Family Time 92012-2019).
Billy Sorrells is an actor and writer, known for Ladies of Rap (2012), Because I Love You (2012) Redemption Of A Dogg (2018), and One Crazy Christmas (2018).
Gallery